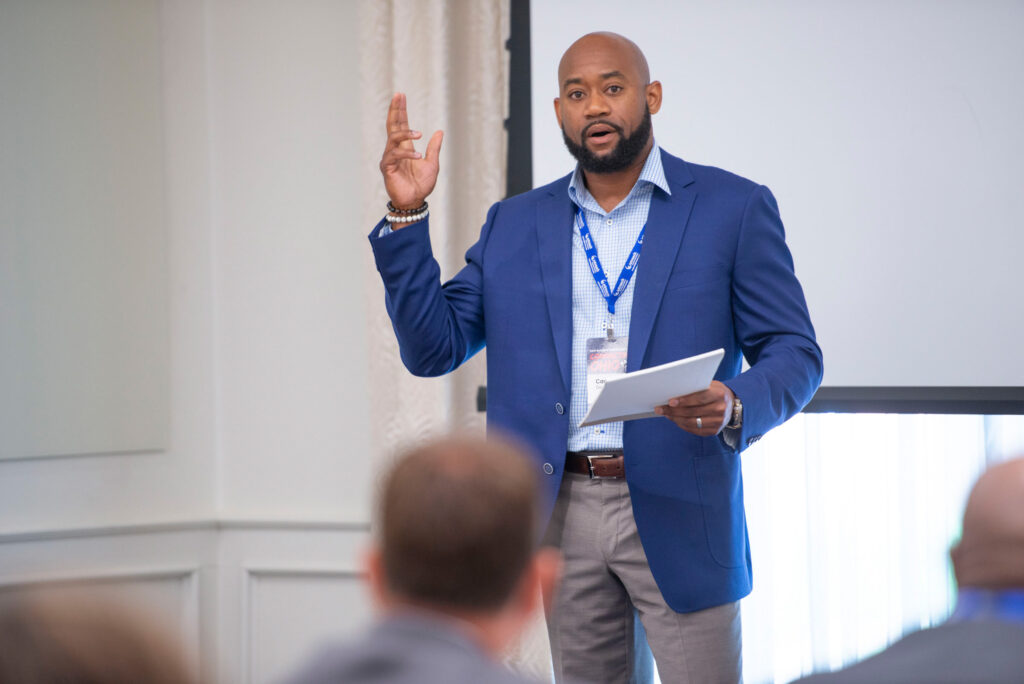 About the Competition
Our 2020 Business Opportunity Expo (BOE) will hold a LevelUp Pitch Competition to showcase Certified Minority Business Enterprises that are working to move their businesses to the next level in capacity, staffing, skills or branding. Five MBE organizations who enter will be selected give live pitch presentations during lunch on Day two of the Expo. All attendees at the lunch will vote on the pitches with the top three prizes going to the MBE organizations with the most votes.
Prizes For The Top Three Winners!
1st Prize: $3,000 and Lunch with a C-Suite Executive from an OMSDC Corporate Member
2nd Prize: $2,000 and registration for the National Minority Supplier Development Council conference in Phoenix, AZ | October 25-28
3rd Prize: $1,000 and two OMSDC 2020 Annual Awards Gala tickets
Eligibility:
MBEs must meet all criteria below to be considered:
Currently an established business with customers in existence for at least 1 year (pitches for businesses that have not yet been established will not be considered for entry)
Hold a current NMSDC certification
Be available to deliver a live pitch at the Luncheon on June 3
Submit an entry as outlined below by March 31, 2020
Pitch Guidelines:
Pitches will be 3-5 minutes, and should include the following topics:
What is your business? Who are your competitors and what is your competitive advantage?
How your business has leveled up and/or planning to level up? (Examples include capacity, staffing, skills or branding)?
How and why working with Ohio MSDC is important to their business and your ability to level up your organization?
A closing and call to action
Important Dates and Deadlines
| | |
| --- | --- |
| MBEs interested in participating send entry information | March 31, 2020 |
| Pitch Deck Coaching Session for participant (Webinar) | Week of April 6, 2020 |
| Final Pitches Decks due to the OMSDC | May 8, 2020 |
| Finalists who will give their Pitch live will be informed | May 20, 2020 |
To enter interested MBE Organizations should submit an entry request including:
Company information: name, address, phone number
Certification number (this can be found on your NMSDC certificate)
Main contact who will be submitting the pitch slide deck
Send entry requests to pitch@OhioMSDC.org. The Deadline for entry is March 31st – late entries will not be considered. Participants will be informed via e-mail that they have been selected to complete their pitch slide deck for the competition by April 3rd. 
MBEs who have been selected to complete their pitch slide deck should be prepared to attend via Webinar a pitch coaching session if they are interested the week of April 6th. Pitch Slide decks should be submitted for the competition by May 8, 2020 to (need either a link or email address). An email acknowledging receipt will be sent. Late Submissions will not be considered.
Final Selection
The BOE Committee will select the top 5 pitch decks to be presented live at the BOE Lunch.  The pitches should be 3-5 minutes long.  The audience will vote via cellphone app. The top 3 MBE Organizations by vote will win prizes.